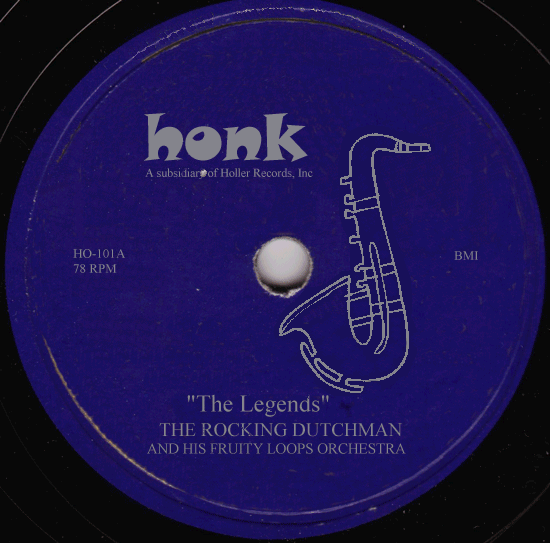 The Legends of the Rocking Dutchman - episode 21
A Young Genius
Ray Charles' early years
Today in the Legends of the Rocking Dutchman the earliest recordings of Ray Charles. It's a well-known fact that Ray didn't have much luck in his childhood. He lived in extreme poverty in a small town in Florida and at the age of five he witnessed his little brother drowning in his mother's laundry tub. Shortly after that, he began losing his sight and he was sent to a school for the deaf and the blind in St. Augustine, FL. When his mother died when he was fifteen years old, his chances were very dim, after all, what prospects could a blind, black, orphaned, fifteen year-old boy in the deep south possibly have?
Two things kept Ray upright and brought him to what he became. The wise lessons of his mother, who taught him not to indulge in self-pity, and his sheer musical genius. Already from his earliest childhood he's shown an interest for music and in his school in St. Augustine, he'd learnt to play several instruments. After his mother's death he toured Florida with several bands for a short while and then he decided to leave for the city that was as far away as possible - Seattle.
It's there, and later in Los Angeles, where he recorded his first singles for the Down Beat and Swingtime labels, first as the McSon or Maxin Trio, later under his own name. In this episode I will show you why I don't agree with what Ray Charles always said about his music of this period, and with him many others, that he hadn't found his own style yet and just tried to copy Nat King Cole and Charles Brown. The dark and troublesome blues that he made are genuine and unique - like all of Ray Charles.
The Maxin Trio - Walkin' and Talkin'
The Maxin Trio - I'm Wondering And Wondering
The Maxin Trio - I Love You, I Love You
The Maxin Trio - Confession Blues
The Maxin Trio - Blues Before Sunrise
The Maxin Trio - How Long, How Long Blues
The Maxin Trio - A Sentimental Blues
The Maxin Trio - Rockin' Chair Blues
Ray Charles - Sitting On The Top Of The World
Ray Charles - I've Had My Fun (Going Down Slow)
Ray Charles - Ain't that fine
Ray Charles - See See Rider
Ray Charles - She's on the ball
Ray Charles - Honey Honey
Ray Charles - The Ego Song
Ray Charles - Late In The Evening Blues
Ray Charles - Lonely Boy
Ray Charles - Baby Let Me Hold Your Hand
Outtro:
Wild Bill Moore Sextette - Bongo Bounce
The following music served as background music during the spoken parts:
Kirk Kirkland - The Saxaphone Rag
Ray Charles (with the Rufus Beacham Orchestra) - Guitar Blues