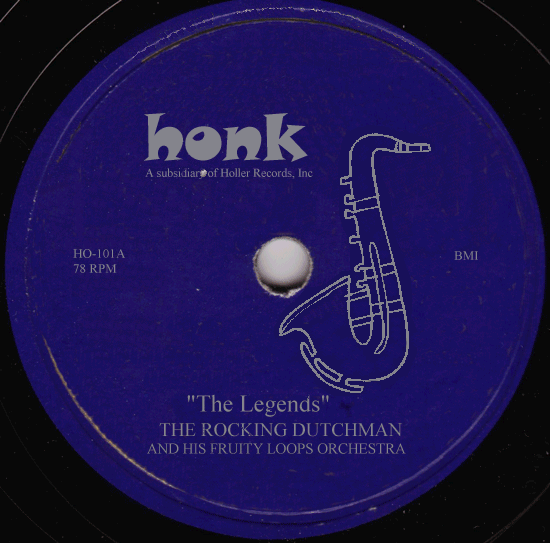 The Legends of the Rocking Dutchman - episode 20 (ALT)
Race Music Chart
Number ones, 1945 and other listings

In 1945, Billboard Magazine renamed its Harlem Hit Parade to the List of Race Music, a name that it would keep until June, 1949, when it got its most well-known name, the Rhythm & Blues Records.

In this episode the number one hits of 1945, and a selection of other charted hits of that year come by. And in all aspects this was a turbulent year. For the music, as it yielded one of the two biggest R&B hits ever, making Joe Liggins suddenly a big star. And for the world, as 1945 was the year that the war came to an end, with America facing the biggest economic boom to come, and Europe having to struggle out of the devastation of the war.

In this episode, you will get a lot of information on the making of the Honeydripper. And then a very personal story of how my parents, still teenagers, experienced this turbulent period, and why they never got to hear the hits that I will play today. It's not from them that I became a fan of forties and fifties Rhythm & Blues.
Ink Spots - Into Each Life Some Rain Must Fall
Cootie Williams - Somebody's Gotta Go
Cecil Gant - I wonder
Roosevelt Sykes - I Wonder
Erskine Hawkins & his Orchestra - Tippin' In
Louis Jordan - Mop Mop
Louis Jordan - Caldonia
Arthur 'Big Boy' Crudup - Who's Been Foolin' You
Big Boy Crudup - Rock Me Mama
Lucky Millinder - Who Threw The Whiskey Down The Well
Joe Liggins & His Honeydrippers - The Honeydripper
Tampa Red - Detroit Blues
Buddy Johnson feat. Ella Johnson - That's The Stuff You Gotta Watch
Roosevelt Sykes - The Honey Dripper
Herb Jeffries & Joe Liggins' Honeydrippers - Left a good deal in Mobile
Louis Jordan - Buzz Me
Outtro:
Wild Bill Moore Sextette - Bongo Bounce
The following music served as background music during the spoken parts:
Kirk Kirkland - The Saxaphone Rag
Count Basie & His Orchestra - One O'Clock Boogie
Count Basie & His Orchestra - One O'Clock Jump
Duke Ellington and his Orchestra - Main Stem
Harry James & His Orchestra - Jump Town
Lionel Hampton - Hamp Boogie Woogie