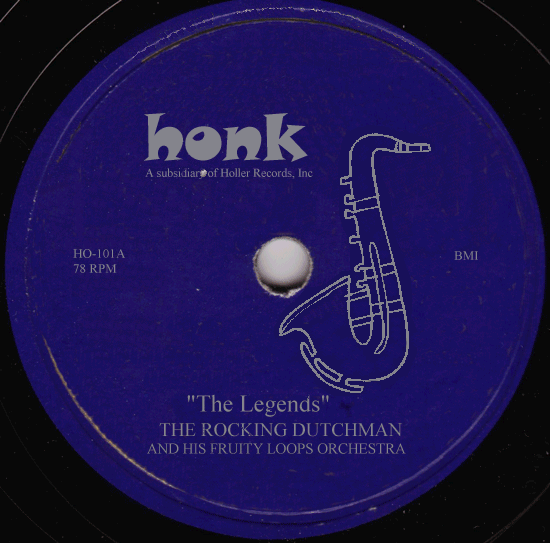 The Legends of the Rocking Dutchman - episode 11
The Harlem Hitparade
number ones - 1942-1943
In October, 1942, in the middle of the first recording ban of the American Federation of Musicians, Billboard Magazine decided to devote a separate hit chart to music, that was targeted at the African-American audience. In the segregated society, that America was in these days, "black" and "white" music were worlds apart, though recordings of white artists occasionally made it to the R&B charts and the other way round. The only way to give an insight in the music sales of this specialistic market, was to create a separate chart that still exists today. Nowadays we speak of the R&B chart, but in 1942 Billboard named it the Harlem Hit Parade and the list would keep that name until 1945 when it became known as the Race Chart.
This week features all the numbers one of the first full year of the chart, that is from October, 1942 to October, 1943. And what a year that was. The chart had a roaring start with a great swing number, but it also featured the most classic Christmas song ever and several recordings of Duke Ellington and the Ink Spots.
The date indicates when the record was listed number one for the first time.
Andy Kirk and His Clouds of Joy - Take It And Git (October, 24, 1942)
Freddie Slack and His Orchestra feat. Ella Mae Morse - Mr. Five by Five (October 31)
Paul Whiteman and His Orchestra feat. Lady Day (a.k.a. Billie Holiday) - Trav'lin' light (November 7)
Earl 'Fatha' Hines and his Orchestra - Stormy Monday Blues (November 14)
Lucky Millinder & His Orchestra - When The Lights Go On Again - (November 28)
Bea Booze - See See Rider Blues (January 16, 1943)
Louis Jordan - What's the Use of Getting Sober (When You're Gonna Get Drunk Again) (January 23)
Nat King Cole Trio - That Ain't Right (January 30)
Lucky Millinder & His Orchestra - Apollo Jump (February 13)
Bonnie Davies - Don't Stop Now (March 6)
The Ink Spots - Don't Get Around Much Anymore (March 27)
Harry James Orch. feat. Helen Forrest - I've Heard that Song Before (April 17)
The Ink Spots - I Can't Stand Losing You (April 24)
Duke Ellington - Don't Get Around Much Anymore (May 29)
Erskine Hawkins - Don't cry baby (August 14)
Duke Ellington - Slip of the Lip (September 25)
Outtro:
Wild Bill Moore Sextette - Bongo Bounce
The following music served as background music during the spoken parts:
Kirk Kirkland - The Saxaphone Rag
Bing Crosby - White Christmas (December 19, 1942)
Dick Haymes - You'll Never Know (July 17, 1943)
Charlie Barnet & His Orchestra - Washington Whirligig
Duke Ellington & His Famous Orchestra - Bojangles (A Portrait Of Bill Robinson)
Jimmy Dorsey & His Orchestra - Jersey Bounce
Jimmy Dorsey & His Orchestra - Sorghum Switch
Lionel Hampton And His Orchestra - Flying Home
Muggsy Spanier & His Orchestra - Two O'clock Jump